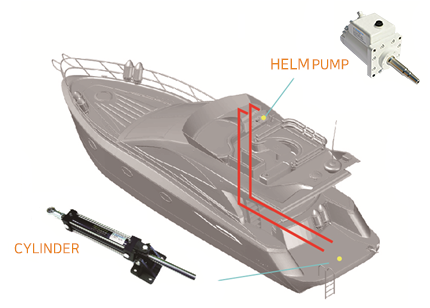 If Steering wheel is rotated in clock wise, oil is pump out from the port ( right port from the front view) into the port of cylinder ( starboard side ).
This cause the cylinder rod move to forward, which move the boat rudder to right side ( starboard) Oil displaced from the opposite end of the cylinder flows back to the helm pump.
For steering in the opposite direction, simply turn the helm pump the other way.
When no course corrections are required, the inbuilt lock valve holds the rudder stationary.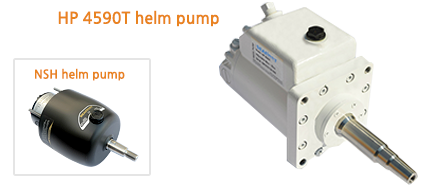 HELM PUMP
SS 304 SHAFT
Adjustable Displacement from 48cc to 85cc for HP4590T
Fixed Displacement for NSH helm pump
Lock Valve Inbuilt
Mounting Hardware and steering wheel mounting hardware supplied as standard
Interconnecting ports for dual stations of steering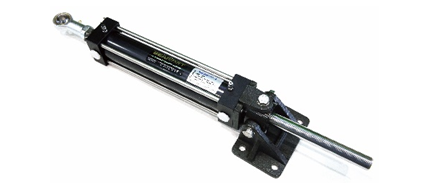 CYLINDER
Stainless steel Rod-end
Aluminum with anodized Cylinder tube
Brass, Black Color Bracket
Stainless steel, Chrome plated shaft
Complete
Model
System Basic Recommend
Components
Wheel turns
Recommend
Suitable
Steering Wheel
Size
torque
engine power
Cylinder
Helm Pump
Lock to lock
kgf.m
HP
MI 34N
IOC-4020
NSH 022
5.5
34
75
Dia 350mm
MI 48N
IOC-4021
NSH 025
6.7
48
75
MI 61N
IOC-4022
NSH 030
7.1
61
110
MI 75N
IOC-5024
NSH 037
7.1
75
110
Dia 395mm
MI 96N
IOC-5025
NSH 044
7.7
96
140
MI 117N
IOC-5026
NSH 044
9.3
117
180
Complete
Model
System Basic Recommend
Components
Wheel turns
Recommend
Suitable
Steering Wheel
Size
torque
engine power
Cylinder
Helm Pump
Lock to lock
kgf.m
HP
MI 118H
IOC-5024
HP 4590T
3.1~5.5
118
180
Dia 600mm
MI 151H
IOC-5025
HP 4590T
4.0~7.0
151
250
MI 185H
IOC-5026
HP 4590T
4.8~8.6
185
250
MI 270H
IOC-6325
HP 4590T
7.1~12.5
270
250
MI 329H
IOC-6326
HP 4590T
8.6~15.3
329
350